Fill in the gaps to complete the high score bar chart for IELTS writing task 1. Use the completed bar chart report to model your own writing as it gives the right structure to use and a good range of sentence structures and language.
Below are useful sentence structures which are commonly used for bar charts for each paragraph (the introduction, overview and body paragraphs) to make up a complete task 1 writing model.
You will see a full report for the bar chart below and you must fill in the gaps to complete it by using the correct verb in their appropriate form.
The bar chart below shows the number of research students studying different subject in 2005.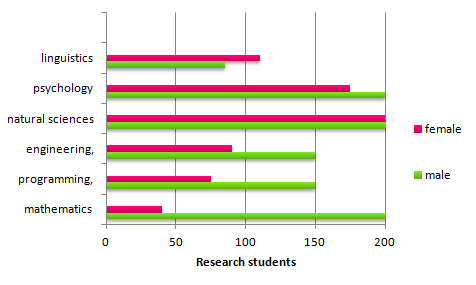 Source: The above chart was not created by IELTS Liz.
Model IELTS Bar Chart Report
Fill in the report below using the following verbs. You must put the verbs in the correct form and tense. Each verb can be used more than once.
to be / to see / to study / to illustrate / to show / to choose / to learn / to prefer
The bar chart (1). ………………… how many male and female research students (2). ……………….. six different subjects (linguistics, psychology, natural sciences, engineering, programming and mathematics) in 2005.
Overall, there (3). …………. more male research students than females in 2005. Although the most popular subject for both genders 4. …………..natural sciences, men least (5). …………….. linguistics and women (6). …………. little interest in mathematics. Linguistics was the only subject that 7. ………… favoured by women more than men.
There was a similar number of men and women in three subjects. There were equal numbers in research students (200) (8). ……………….. natural sciences. There was a difference between the genders of about 25 in both psychology and linguistic with more women (9). …………….. linguistics (around 110) and more men taking psychology (200).
A difference of about half (10)………… evident in engineering and programming where 150 men chose both subjects. By contrast, 200 men selected mathematics which was approximately five fold that of women (about 40).
Answers
illustrates
studied
were
was
preferred
showed
was
studying / learning
studying / learning / choosing
was
Recommended